THE SEMI – ANNUAL PHILADELPHIA HORROR FILM & MEMORABILIA CONVENTION

MONSTER-MANIA 45, MARCH 13-15TH, CHERRY HILL, NJ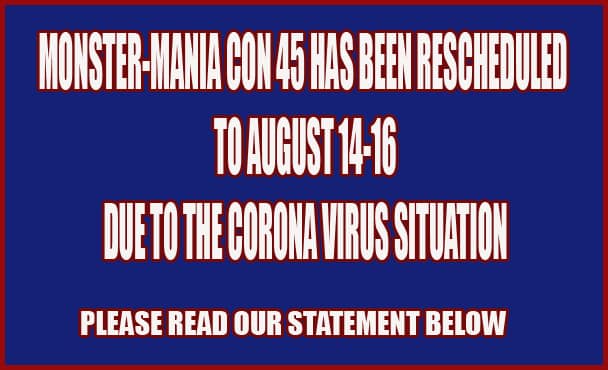 It is with a very heavy heart that I have to announce that MONSTER-MANIA 45 has been postponed due to the coronavirus situation worsening in the area and the effects that it has had on the show. The show will be rescheduled for AUGUST 14-16. We are currently in the process of contacting the stars and their agents to reschedule them for that date. I'm so sorry for the late notice but the coronaviru

s situation has gotten much more serious in the NJ area in just the last few days and we cannot risk anyone's health.
In consultation with the hotel, local authorities and health officials, MONSTER-MANIA has decided to postpone the event in order to deliver the experience that you have come to expect from us in a healthy environment.As you have seen, the guest list has been decimated from what it originally was and despite our very best efforts to fill the gaps, the coronavirus situation has us unable to predict further last minute cancelations.
We have tried our VERY best to prevent this from happening but sadly we cannot seem to outrun the effects of the coronavirus situation. More importantly, we cannot in good conscience put people at risk of an unhealthy situation.
We will be rescheduling as many of these guests as we can at the August show. Those that cannot do that show we will try to add to our upcoming June show. We will be re-branding Pop-Mania as a Monster-Mania Con and adding more horror related stars to that show.
We will gladly transfer any ticket purchases for the March show to either our June or August shows if you wish. Those who do not wish to transfer to either of those shows will be refunded. Refunds will begin in the next few days as we work with Growtix to ensure that everyone who wants a refund will get one.
Wolf Studios will refund all photo ops within the next 30 days due to the mass volume of photo ops.
If you want us to transfer your tickets to either of those shows please email us at dave@monstermania.net
August show tickets will go on sale within the next few days and guest announcements will begin shortly.
We will take the existing vendor list for the March show and reschedule them for August. Any vendors who do not want us to do this can email is directly at vendors@monstermania.net
Any available tables from vendors who do not wish us to do this will go on sale next week.
We are sorry to disappoint anyone but we wish to bring you the very best talent lineup and provide the safe, fun, family oriented event that you deserve. The health and well-being of everyone is our paramount concern. Most importantly, thank you for all of your support.


SEE THE HORRIFIC LINE-UP OF GUESTS HERE!
For "Up to the minute" UPDATES on all shows, visit the forum, or visit our Facebook, twitter tabs.


MONSTER-MANIA 45, MARCH 13-15TH, CHERRY HILL, NJ
POP-MANIA 1, JUNE 5 – 7 TH, CHERRY HILL, NJ
MONSTER-MANIA 46, AUGUST 14 – 16TH, CHERRY HILL, NJ
MONSTER-MANIA 47, OCTOBER 23 – 25TH, HUNT VALLEY, MD